Statnett has re-purposed Elektron from subsea cable-laying to transformer transport.
The containers were manufactured in 2014 and installed 2014/2015 onboard Electron. The
containers were taken out of operation in May 2023, and are stored at Halsenøy dock.
Overview and key data for the containers
| | |
| --- | --- |
| Location | Halsnøy havn, Norway |
| Made by | ELA Container GmbH |
| Max. capacity | 4 people per container |
| L / W / H (mm) | 6058 / 3000 / 2895 |
| Year of manufacture | 2014 |
| Maintenances status | They are considered to be in good condition by Statnett. |
| Key terms | Sold "as is, where is" |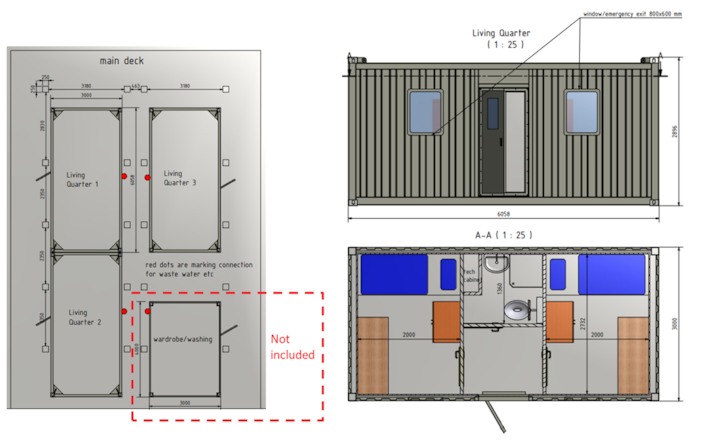 Main commercial terms
The original purchase price was 495.000 Euro, in 2014. KPI change +33%
Asking price is 300.000 Euro, ex VAT.
The Assets are sold "as is, where is" at Halsenøy dock
The Assets will be sold to the most favorable bid, preferably to one buyer
Buyer is responsible for export process (if applicable).
Sales process
Potential buyers will get access to technical data upon request. Site visits will be facilitated for interested parties.  Indicative or firm bids for the equipment may be submitted at any time, and latest by end of March 2024. Statnett will select the bids with the most favorable terms, including, but not limited to price, delivery terms, buyer financial standing etc.
Statnett reserves the right to close the sales process at any time or extend the bidding deadline.
Indicative timeline for the transaction
Marketing: November 23 - February
Indicative offers: by end of February
Site inspections: November 23 - March
Binding offers: By end of March
Award of winning bids by mid April
Contract finalized by May
Delivery of equipment: possible when agreement has been finalized
Statnett reserves the right to change the timeline, stop the sales process or select bidder at own discretion. Early bids may accelerate process.