You can read more in Statnett's Annual Report and Sustainability Report for 2022.
The war in Ukraine and the disruption of Russian gas supplies to Europe have seriously undermined European energy security and seen energy prices skyrocket. Together with the low level of precipitation in the first half of 2022, this led to high prices and a pressed power situation in Southern Norway during parts of the year. However, access to resources remained good in Central and Northern Norway.
Statnett maintained a high level of delivery reliability throughout the year. Despite several storms throughout the winter, in 2022 there were no significant blackouts due to faults at Statnett's facilities. The volume of non-delivered energy was low, the number of operational disruptions at Statnett's facilities was on par with previous years, and the frequency quality was better than in the last three years.


Operating revenue up, underlying profit down
The authorities determine how much revenue Statnett can collect from regulated activities each year. Revenue that exceeds the revenue cap must be repaid to grid users through lower transmission charges. Revenue from regulated activities rose sharply in 2022, closing the year on NOK 22.2 billion, largely due to the high congestion revenue.
"This was extraordinary revenue in an exceptional year for the power market. Price differences both within Norway and between Norway and other countries generated very high congestion revenue. That's why we reduced transmission charges several times during the year," explains Statnett CFO and EVP Cathrine Lund Larsen.
The fixed component of transmission charges for the transmission grid was set to zero for consumption from April, and a ceiling was subsequently set for the power price used to calculate the energy component. These adjustments will continue through 2023. A further NOK 5.9 billion was paid to owners of underlying grids in 2022, bringing the total revenue returned to grid customers during the year to NOK 11.3 billion.
While Statnett's accounting profit for 2022 increased to NOK 5.9 billion, mainly due to congestion revenue, the underlying profit fell to NOK 0.6 billion. The reduction in the underlying operating profit is mainly attributable to higher costs for system services and transmission losses, caused by high power prices. The costs of system services and operations are recognised in the permitted revenue with a two-year time lag.
At approximately NOK 5 billion, investments in 2022 mainly related to completed and ongoing grid infrastructure projects, the purchase of grid facilities and digital development.
Despite the repayments and tariff adjustments during the year, Statnett closed the year with accumulated higher revenue of NOK 9.3 billion.
"This higher revenue will be returned to customers, and therefore reduce future transmission charges," says Lund Larsen.


Sustainable transition, reducing greenhouse gas emissions and preserving nature
The three pillars of our sustainability efforts are working for a sustainable transition, reducing our greenhouse gas emissions and preserving nature.
"Development of the power system to handle consumption in Norway of up to 260 TWh by 2050 must be carried out sustainably both locally and throughout the supply chains," explains Lund Larsen. "We must reduce our directly influenceable emissions by 25 per cent by 2025 and achieve net zero emissions by 2050. At the same time, the company will work to become nature-positive, with an emphasis on preserving ecosystems, habitats and functional areas for species.
The EU's taxonomy for sustainable economic activity enables the financial markets to channel capital to profitable sustainable activities and projects.
"The taxonomy emphasises the significant contribution the interconnected European power system is making to the green transition. We achieve a high score on all three taxonomy indicators," says Lund Larsen.
The green change of pace will require significant new power generation and grids. This in turn will require good processes to guarantee the necessary pace while ensuring solid anchoring and acceptance among local communities, authorities and stakeholders.
"Statnett is actively working to embed this dialogue in both the planning processes and the various development projects," concludes Lund Larsen.
FACT BOX
Figures from Statnett's annual financial statements for 2021 and 2022
All figures in NOK million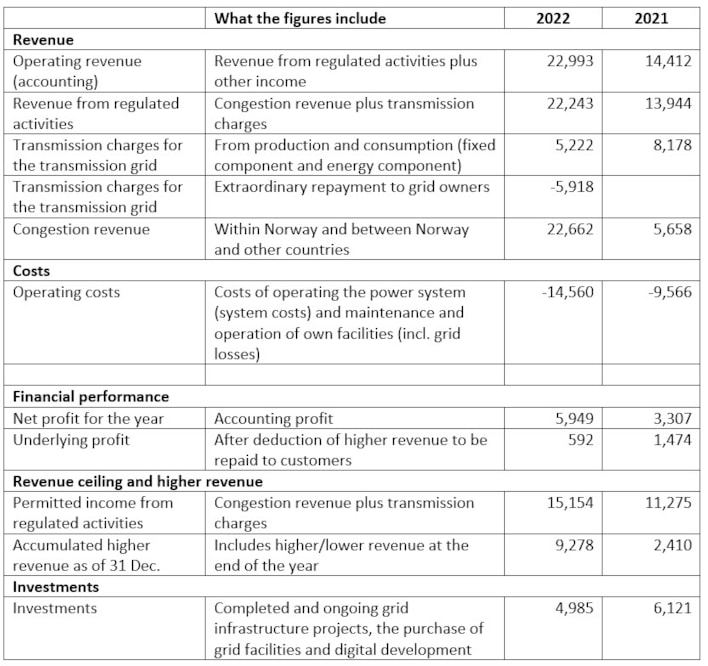 FIGURES
Direct and indirect greenhouse gas emissions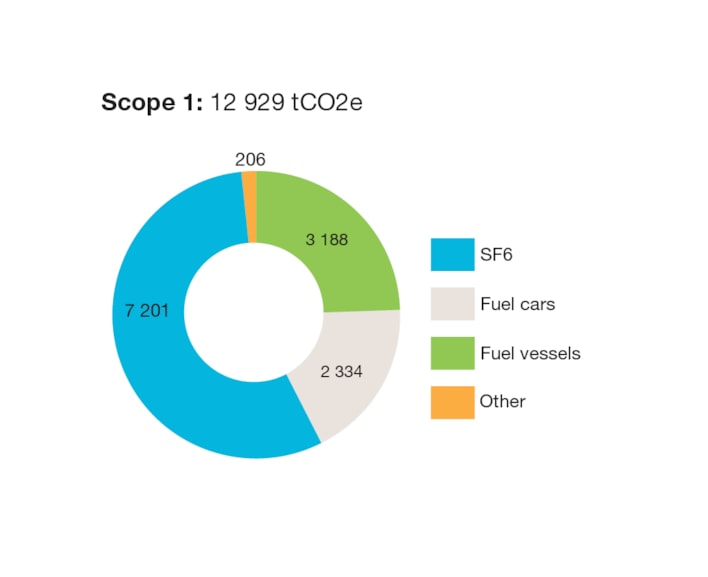 The figure shows directly influenceable greenhouse gas emissions from Statnett's operations (Scope 1). Total emissions amounted to 12,929 tCO2e (tonnes of CO2-equivalents), of which SF6 gas accounted for the highest proportion.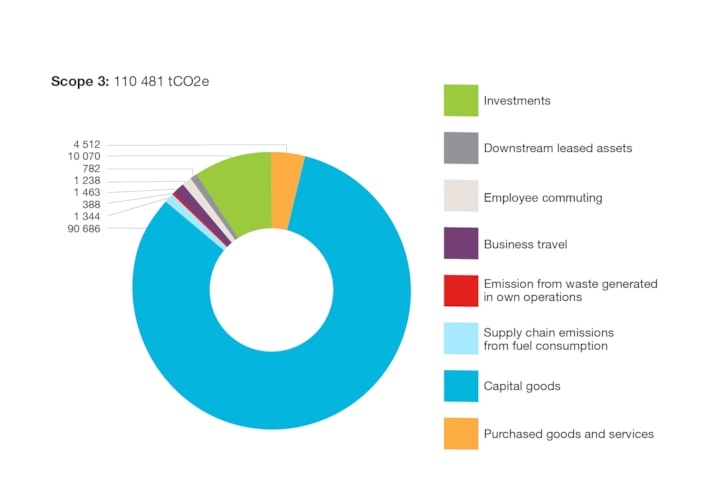 The figure shows indirect greenhouse gas emissions from Statnett's operations (Scope 3). Total indirect emissions amounted to 110,481 tCO2e. The purchase of materials such as power lines, pylons and equipment for transformer substations accounted for the main proportion of these emissions.
Taxonomy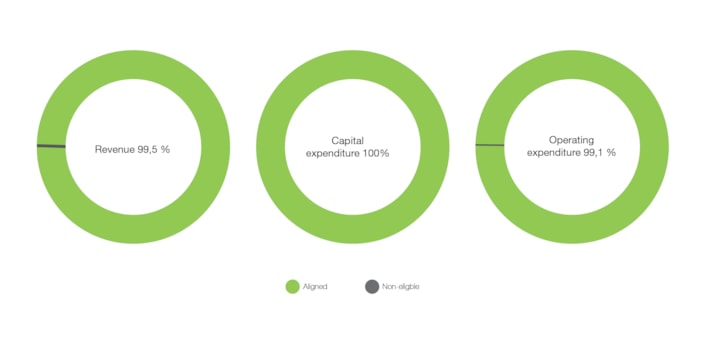 The figures show that 99.5 per cent of Statnett's revenue, 100 per cent of investments and 99.1 per cent of operating costs are described as sustainable based on the taxonomy criteria.