At present there are no commercial systems available that combine automatic flying with the collection and utilisation of information from drones in a complete concept that is suitable for Statnett's objectives and needs.
AI-4-UAS Artificial intelligence for unmanned aerial systems
It is critical that Statnett has as clear a picture as possible of the status of all aspects of the central grid. It can be difficult to reach some locations on foot; it is often expensive to use a helicopter, and the weather can also make for a hard day at work. Extensive use of modern drone technology will be an excellent aid in increasing the efficiency of this aspect of grid operations. New sensors installed in the drones will also help to ensure that more faults can be prevented by revealing weaknesses in the components at an early stage.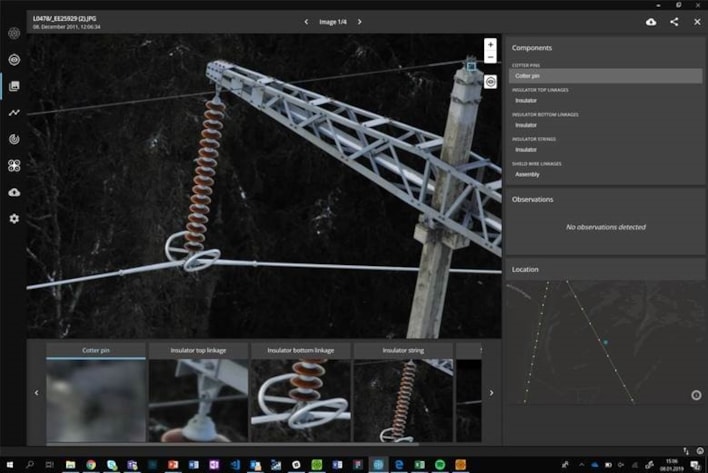 Connected Drone is an integrated drone platform developed by eSmart Systems, based on IoT, Big Data and AI technology. This project will use parts of this platform to develop digital intelligence, including through the use of multiple sensors (e.g. IR) that will gather large volumes of data. The data collected from these sensor systems will then be processed, both locally on the drone (edge computing) by means of new, powerful processors and centrally in a cloud solution. This will help to streamline operations and increase the automation of power grid inspection. Robust, secure communications solutions between drones, between drones and base stations, and between base stations and the cloud are also included in the project.
The project is a collaboration between Statnett and eSmart Systems. It began in 2017 and will be completed during 2020.
Automatic drone flights over substations
This project will develop a system for inspection/monitoring by drone (UAS), which can fly on demand or automatically over Statnett's substations to gather specific information (images, IR, UV) and then return to the starting point. The drone is parked in a hangar with a charging point. Although full automation is required, manual operation is also an option when needed. It will be possible to send the drone out on predefined routes to assist with monitoring or inspection of perimeters, areas, components, structures and buildings. The system is linked to Statnett's Monitoring Centre at Sundalsøra.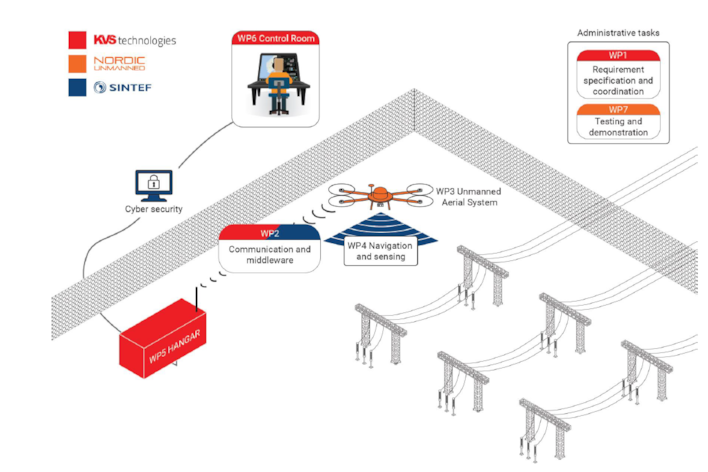 The project is a partnership between Statnett and our partners KVS Technologies, Nordic Unmanned and SINTEF, and it consists of seven work packages/subprojects:
Requirements specification
Communication and control
Unmanned Aerial System (UAS)
Navigation and sensing
Drone hangar
Control room
Testing and demonstration
The project began in 2017 and will be completed during summer 2019.